Personal Representatives in Oregon during Probate play a crucial role.
Planning for your estate and end-of-life decisions involves making big decisions about who will receive assets, how the receipt of those assets will be structured, and who will be in charge of managing your final wishes.
If you have been nominated as a Personal Representative for a friend or loved one's will, the person is asking you fulfill their final requests over their estate; you will be the last person to manage their affairs. Deciding to serve in this capacity for someone is a big decision. Only you know your ability and willingness to serve. If you accept the roll of Personal Representative, there are rules and procedures to follow. You can seek help as the probate process is usually guided by an estate planning attorney in Oregon.
If you have been nominated as Personal Representative and are made aware of your role while the person is alive, take time to learn as much as you can. Ask for a copy of the will and read it. Who are the beneficiaries? Speak with the person about the relationships between beneficiaries and other family members. Do they get along, and if not, why? Be prepared for conflict and ensure you have access to the original will – it's needed for probate. Ask if they currently have relationships with an attorney, accountant, tax planner, or financial planner as continuing these relationships may be helpful.
Taking on the role of Personal Representative should be considered carefully. These decisions are usually made based on relationships and willingness to help the family after a loved one has died. Knowing certain processes are in place and many are standard procedures may make the decision easier, according to the useful article "Planning Ahead: Should you agree to serve as an personal representative?" from Daily Local News.
If you have been nominated and do not wish to serve, review the will as someone may be nominated as a successor Personal Representative. If there is, you can decline nomination. If no one else is nominated, talk to an estate planning attorney about what can be done. In cases where the size, complexity of the estate, or beneficiaries are complicated, a professional may be able to act as Personal Representative.
Small estates with debt can be more challenging than well-planned, large estates, where there are abundant resources to address problems.
What are your responsibilities as personal representative? Depending on how the will is prepared, you may be responsible for everything, or your responsibilities may be limited. At the very least, the Personal Representative (alone or with the help of an estate attorney) is responsible for:
Locating and preparing an inventory of assets
Getting a tax ID number and establishing an estate account
Paying final bills, including funeral, and related bills
Notifying beneficiaries
Preparing tax returns, including estate and/or death tax returns
Submitting a final accounting and distributed assets once approved by the court.
These tasks may sound daunting but being asked to serve as a person's personal representative demonstrates the trust they have in your abilities and judgment. You'll be guided through the process by an estate planning or elder law attorney. You will breathe a sigh of relief when you complete the task. You'll also have the satisfaction of knowing you did a great service to someone who matters to you.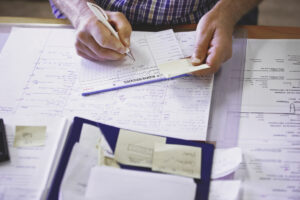 Reference: Daily Local News (June19, 2022) "Planning Ahead: Should you agree to serve as an personal representative?"
For more information on probate see here.